BiTurbo Twin Race Car Bed, Remote Control, LED Lights, Engine Sound, License Plate
The Cilek BiTurbo Twin Race Car Bed 🏎️ is perfect for any young car enthusiast's room. It is designed specifically for children between 4 and 12 years old and has LED headlights, sound effects, authentic-looking 5-spoke wheels, and a license plate. The bed is crafted from high-quality, durable materials, ensuring it will withstand the wear and tear of child play. Our goal was to design more than just a bed; we wanted to create an adventure that truly encapsulates your child's dream. 🛌
Among our best-selling items, the BiTurbo model is a budget-friendly alternative to the GTS EV race car bed. With a remote that controls LED headlights and sound effects, and four stunning colors to choose from - red, 🟥, white ⬜️ , and black ⬛  it adds a vibrant touch to your child's room. Other fun features include side window guardrails, a license plate, racing decals, and more, making every night a race 🏁 to dreamland.
Product Dimensions: 50" W x 87" D x 28" H (Headboard height). 22" side height, and 5" ground clearance. 250 lbs. maximum weight capacity. Designed for kids between 4 and 12 years old.

Remote Control

with a two-setting (on & off) remote control, LED headlights and sound effects. Other details include LED headlights, sound effects, authentic-looking 5-spoke wheels, a license plate, and cool decals.
Fits a regular twin-size (75"x38") mattress. (Not included) Recommended mattress height is 8" (max. 12"). No box spring is required.
Made with non-toxic, BPA and lead-free plastic. The plastic body is reinforced with CARB P2 and TSCA Title VI-compliant manufactured wood. Compliant with CPSC - 16 CFR 1303 Ban of Lead and CPSC - 15 U.S. Code § 1278a - Children Products containing lead standards. It's also compliant with California PROP65 regulations.  The acrylic side windows function as guardrails, while the padded interior provides extra protection. Powered with a safe 12V wall adaptor.
Easy to assemble with two people with the pre-assembled stickers. Watch Assembly Video or download the Assembly Instructions (PDF).
1-Year Limited Warranty. Made in Turkiye.
Remote Control (included)
Enjoy the included remote control, allowing them to manage the bed's front LED lights and sound effects.
Watch Demo Video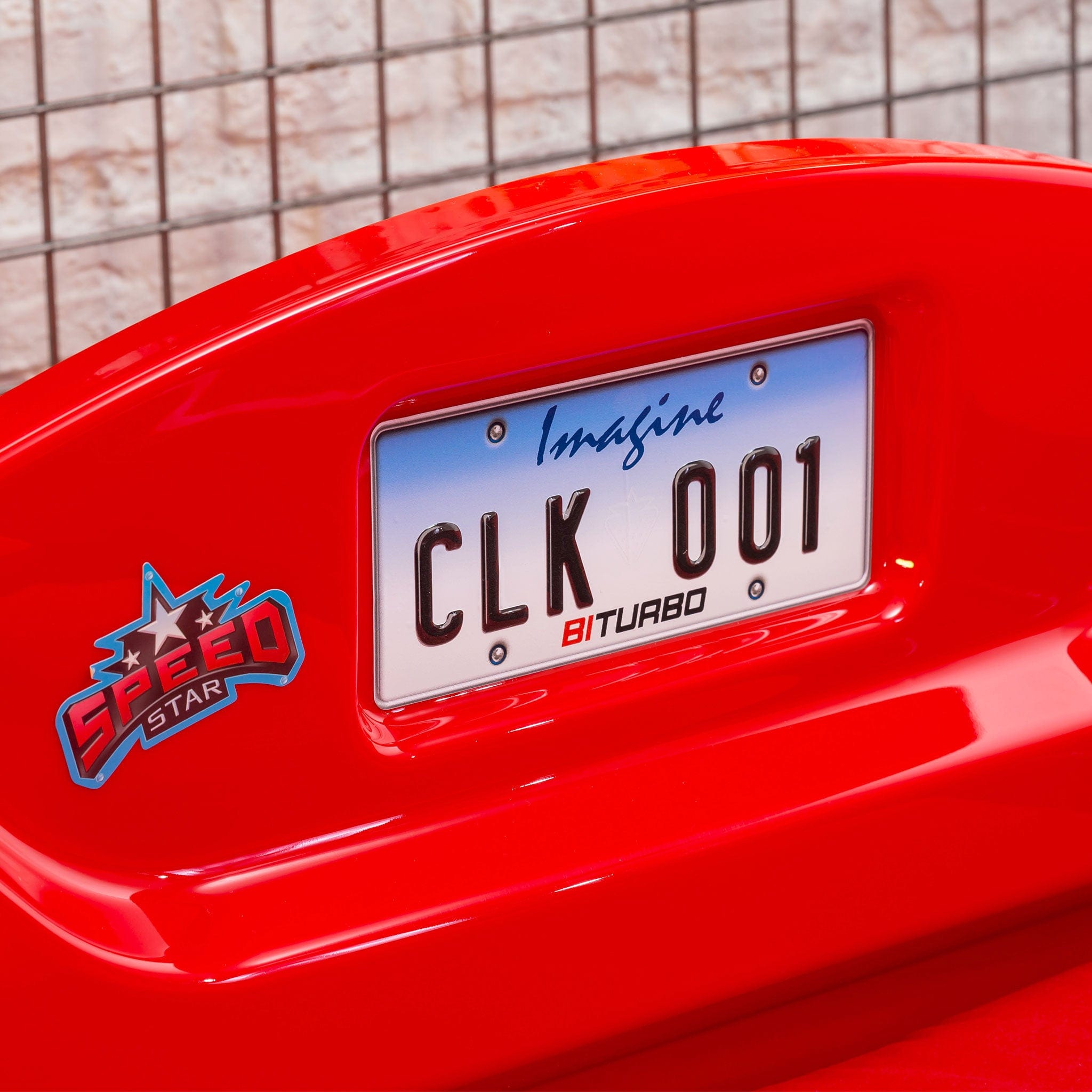 License Plate
The bed comes fitted with a stylish vanity license plate, adding a touch of authenticity. However, please note that custom plate options are not currently available.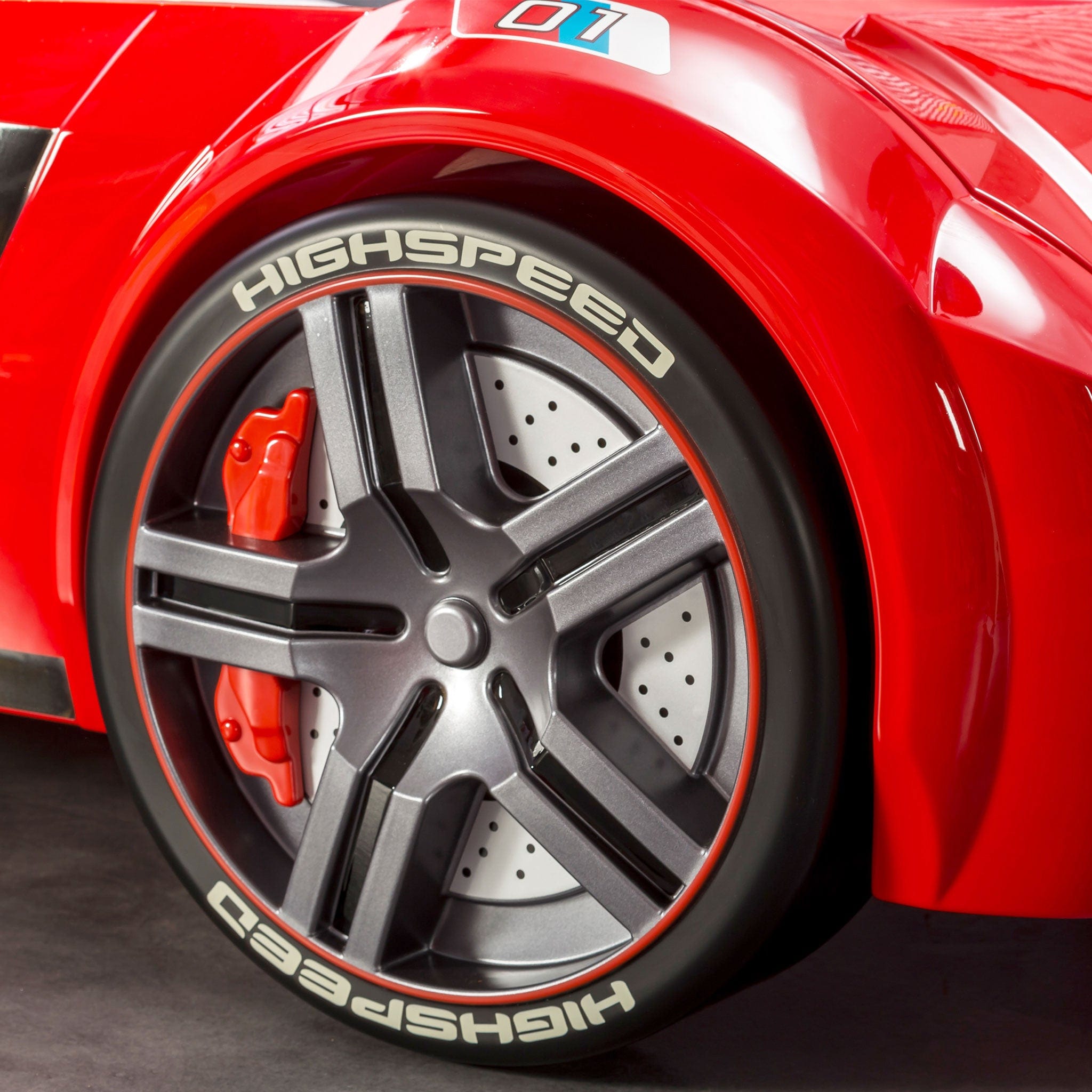 Realistic Wheels
The 5 spoke wheels capture the spirit of a real racing car with brake calipers, discs, and "Highspeed" decals.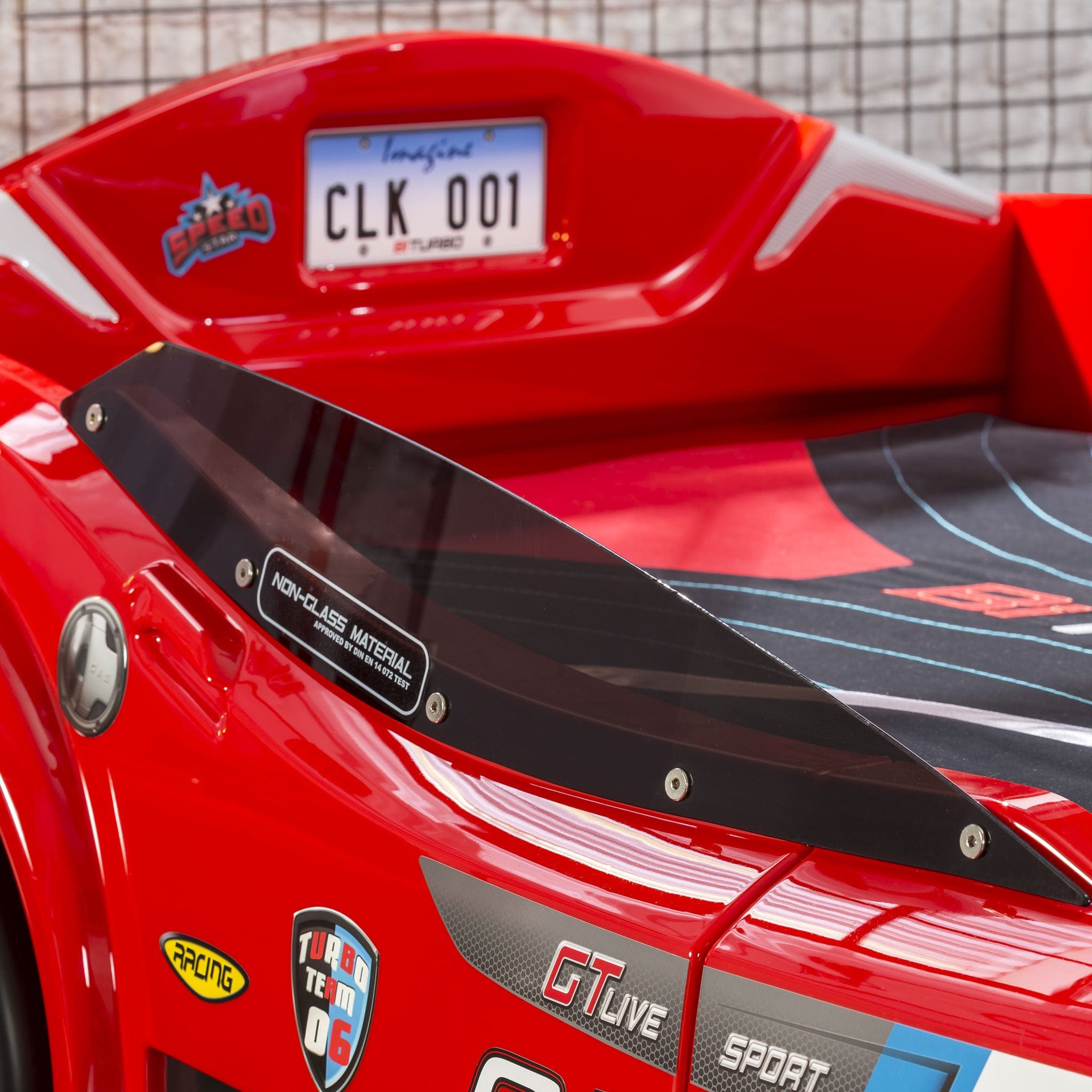 Safety & Protection
We prioritize your child's safety - it features side windows serving as guard rails as an additional layer of protection.
Easy Self-Assembly
Watch our step-by-step video before you start your assembly. White-glove assembly service is available in California and the New York metro areas with an additional fee.
Shipping
The car bed comes in 3 boxes, all packed on a pallet for easy delivery and to prevent damage. It's curbside delivery for regular shipments.
Twin-Size Mattress
Accommodates a regular twin-size mattress (75"x38")(not included). We recommend using mattresses with a thickness of up to 8 inches, although it can accommodate up to a maximum of 12 inches. Bottom boards are included eliminating the need for a box spring or base.